Having access to social media has truly opened up people's lives and their creative spaces to all of us. Every day homeowners and home builders share their homes and projects with the world. That's why we gathered a handful of our favorite bathrooms designs from Instagram to help inspire you for new projects in 2022. 
Blush & Gold
This bathroom design is certainly a favorite online. The floating, blush colored vanity is certainly a showstopper, especially combined with the natural stone countertop and warm gold fixtures. The statement wall tiles add depth and texture and a bit of a Moroccan vibe. While the warm, natural wood floors and black window with simple, horizontal grilles add a little modern masculinity and help ground the space.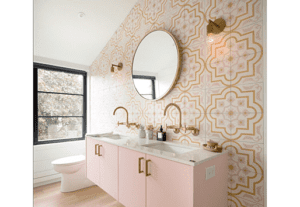 Classic Black
The clever use of black accents in this bathroom makes it an easy favorite. The modern, freestanding black tub takes center stage, placed directly in front of a casement and picture window combination. The simple, black light fixture complements the thin, black grilles on the windows. To balance out all of the black, hexagon-shaped floor tiles in warm, natural tones help make this space feel cozy and inviting.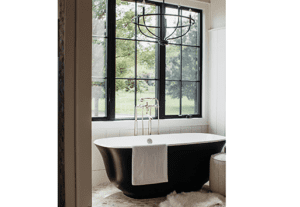 Traditional & Charming  
This vintage-looking clawfoot tub takes center stage in this charming bathroom. Light gray pinstriped wallpaper adds a touch of whimsy to the space, while the glitzy chandelier adds just the right amount of glam. A black picture window with simple grille pattern looks like a piece of art as it's trimmed out in white. The patterned natural wood floors add texture and dimension to the space.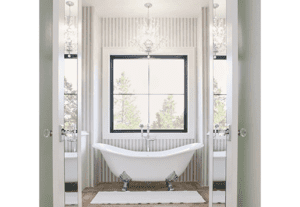 Light & Bright
White walls, tiles, cabinetry and countertop make this space bright and airy while adding depth and dimension. The functional awning window in black provides ventilation and privacy and helps balance all of the contrasting white, along with the dark oversized floor tiles in a herringbone pattern. The natural accessories and plants add warmth and texture to this cozy space.

Fashion & Function
This room offers the best of both worlds – fashion and function.  Traditional warm gold fixtures and accents add the fashion, while ample amounts of storage provide the function.  The large double-hung window with simple vertical grilles offers tons of light and ventilation. The oversized floor tiles add color and texture while the pattern rug adds warmth.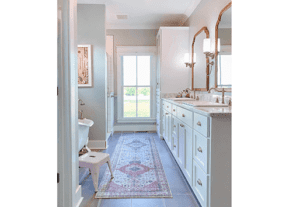 Do you have a gorgeous bathroom build or design you'd like to share? Or many an amazing kitchen? Bedroom? Patio? Deck? Be sure to share it with us and tag us on our social channels. For any help sourcing building materials and supplies, contact our team today.