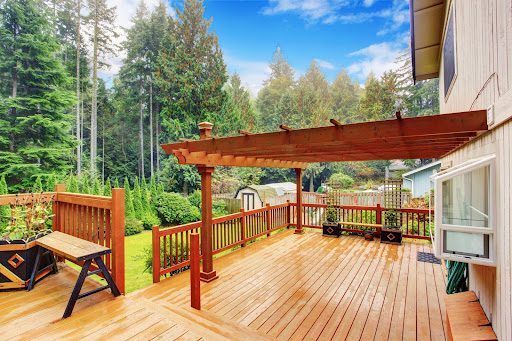 Adding a deck to your Newark or Butler home expands your outdoor space and gives you room to relax with a good book and watch your kids play outside or invite friends over to hang out. Many people think of decks as simple structures.
You know that you need lumber for the posts that support the deck and for the floor along with the railing that goes around it. Though you can go with a classic or traditional design, there are many unique and new designs you can choose from too.
At Excelsior Lumber Company in New Jersey, we'll help you find the top decking trends for 2022 that use supplies from top brands like Fibre-on and Trex.
Trendy Railings
Many older decks have railings made of PVC posts that look similar to fences. Thanks to new brands, you can now add trendy railings that make your deck stand out. You can even use two different types.
One example is a railing made from aluminum or PVC that has open spaces between the top and bottom. Cables used in those open spaces keep your family and guests safe but make the deck feel more open and allow you to see into your yard.
New Colors
At Excelsior Lumber Company, we can help you pick the right type of wood for your new deck and select a trendy color to use on the wood. Do you assume that you need to pick a stain that matches the wood used in your home? Think again.
There are now hundreds of different stain colors available along with various paint colors. If you want a deck that would fit on a Cape Cod home, go with a gray shade that looks vintage and worn. A deeper color such as chocolate brown will hide any signs of damage and give your deck a welcoming feel.
Sunken Spaces
When you watch TV shows and films set in the 1960s, you might notice sunken spaces in living rooms where couples and families relaxed together. Sunken outdoor spaces are among the hottest 2022 decking trends.
This design allows you to build a traditional deck and add a sunken spot in the middle or anywhere else you want. You can add stairs that lead down to it or create an open edge that lets you drop down to the spot. This area is the perfect place on your Newark or Butler deck to put a comfortable couch or other outdoor furniture.
More Privacy
Another trend for 2022 is the addition of more privacy on decks. Most decks are open and allow your neighbors to see every little thing you do. Privacy screens allow you to relax while hanging outside without worrying about others watching you.
Privacy screens use different materials such as aluminum and are so easy to move that you can simply pick one up and place it wherever you want. You'll also find screens in different colors that match the vibe you want to create.
Outdoor Cooking

In the old days, many people only used their decks when they brought out their grills. As much as you might like cooking up a juicy steak or a plate of burgers, you can get more use out of your deck when you add an outdoor kitchen.
One of the nice things about an outdoor kitchen is that you have the choice of a more elaborate design or a basic kitchen that fits your budget. Start with the appliances that you love using such as a pizza stove and outdoor oven. You can then build the deck around that kitchen to make sure that you have room to relax or hang out with loved ones as well as space for cooking and prepping.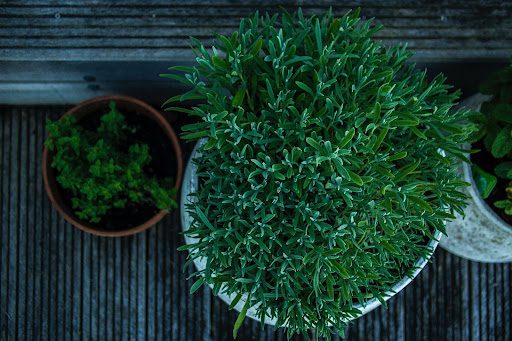 If you're like most homeowners, you probably think you can only plant a garden in your yard. A hot 2022 decking trend calls for a garden placed right on the wood.
Do you love the idea of picking fresh herbs when you cook? Add stainless steel or ceramic pots along the deck railing to grow your favorite herbs.
Have you thought about growing vegetables but didn't know where to start? Raised garden beds don't take up a lot of space and can fit on any type of deck to give you tons of garden space.
Separate Zones
The COVID pandemic led to many people spending time on their own and away from people. Even if you lived with other people, you probably got in the habit of doing things without them a few hours a day.
That is why one of the hot decking trends for 2022 is a deck with separate zones or spaces. You might use comfortable furniture and outdoor lights in one zone to relax and watch the sunset and put your kids' toys in another zone.
Decks can also include spaces for entertaining or cooking.
Different Materials
Who says you need a deck that uses the same materials on every square inch? At Excelsior Lumber Company, we help you combine all of the lumber you want in new and exciting ways. If you have a deck with multiple sections, consider using different types of wood to separate those spaces.
You might choose one type of lumber for the base floor of your deck and another for the section on the side or back of your house. Mixing aluminum and other types of metal will give you a funky look that helps your home stand out on the block.
Use 2022 Decking Trends
To incorporate your favorite trends of the year, try using different materials and adding a unique railing or building a sunken space and using bright colors.
Contact Excelsior Lumber Company if you live in the Butler and Newark areas of New Jersey to see how our experts can help you choose one of the top decking trends for 2022 to create an amazing deck.