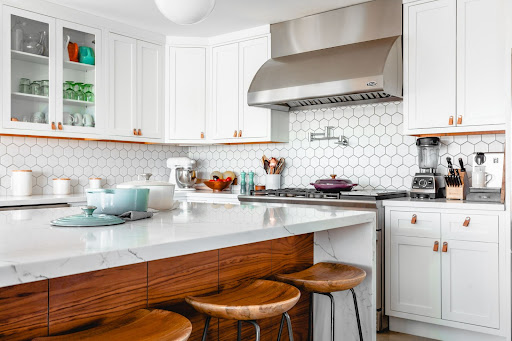 Kitchens and bathrooms are one of the most widely used spaces in a house and are subject to a lot of wear and tear. When it comes to designing or renovating these spaces, there are a lot of things to consider. A trend check will give you ideas and perspective on your next project.
Kitchen and bathroom design trends are changing every year, and it can be hard to keep up with them. With more time spent indoors, more millennials opt for a remodel to create a comfortable yet chic space. Here are a few trends you can incorporate into your kitchen or bathroom design.
Multi-Functional Spaces
Homeowners are looking to create multifunctional spaces to help better utilize their homes. For example, kitchen island countertops are redesigned to make a dining table, a work-from-home station, and a homework zone. In the bathroom, vanities and medicine cabinets with outlets for charging mobile devices are trending too.
Experimentation with Color
While the favorite color remains 'white,' there is increasing experimentation with nature-inspired colors. Organic and natural colors pop in the bathrooms and kitchen this year in the form of kitchen accents, cabinetry, and backsplash tiles. The trending colors in the bathroom fixtures are brushed and matte finish in black, gold, green, and blue hues.
Enhanced Usability
Increasing storage space by having open shelves in the kitchen is something every homeowner is considering while renovating the kitchen. Open shelving increases the storage space and gives open and welcoming vibes. It makes the utensils easy to reach and also allows you to show off your beautiful dishware. Open shelving can also help reduce clutter in bathrooms and kitchens, making up more space for other small appliances that can be charged with an in-built charging point.
Tech Integration into Kitchen and Bathrooms
Tech integration is the buzzword of the moment for kitchen and bathroom designers. The idea is simple: to make your home more efficient and comfortable by integrating technology into your daily routine.
Having kitchen components controllable using smartphone apps, LED lighting, and motion sensor faucets are some of the popular technologies. There is also an increasing demand for better appliances that can perform multiple tasks.
Bathrooms are designed with app-based heating systems, temperature-controlled showers, integrated speakers, and automated ventilation systems.
Sustainability Features
Millennials are trying to switch to more sustainable options in kitchens and bathrooms by installing LED lighting, WaterSense fixtures, and alternative-energy water heaters. The trend of installing large energy-efficient windows is also on the rise to maximize the use of natural light.
Customization Is Key
Whether you want custom cabinets in your kitchen or custom shower doors in your bathroom, customization allows you to create a space that perfectly suits your style—and ensures it matches everything else that makes up the personality of your home (like wall color and furniture).
Blending the newest technological innovations with a timeless design is the formula for a successful project or remodel. A simple, clean, modern design that is easy to maintain will make your space perfect. If you are looking to renovate your bathroom or kitchen, contact Excelsior Lumber Company. Our team will ensure each element in your project is taken care of with utmost priority. From choosing colors to 3D modeling and designing to installation, we will provide you with the best possible services. Contact us or visit our experience store for more details.