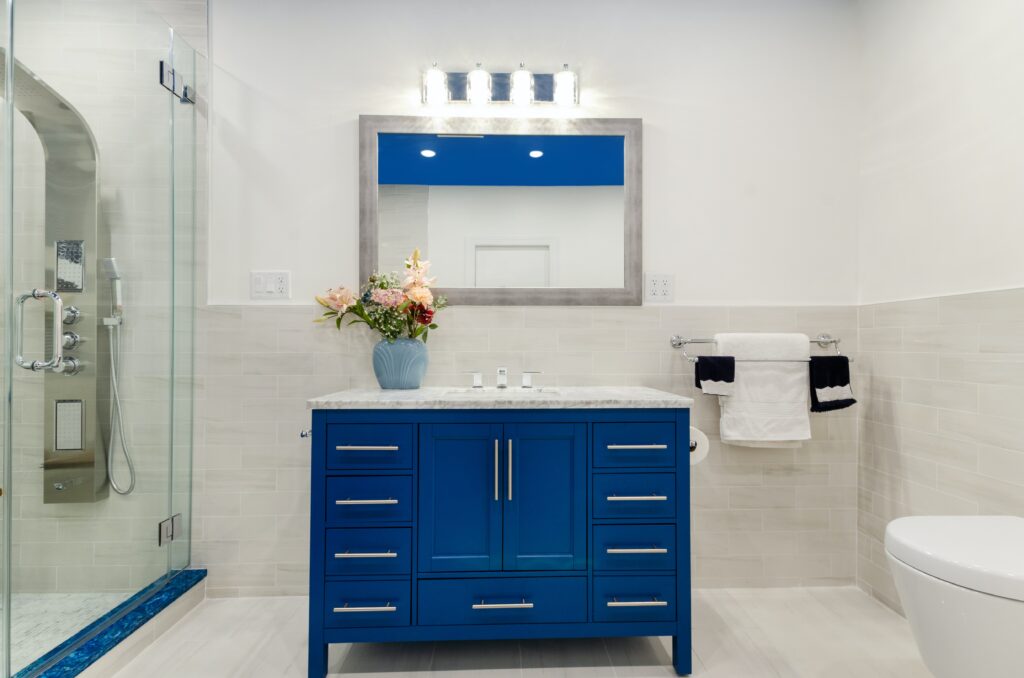 A bathroom is more than just a place for a quick shower and cleanse. It can often be a very calm and tranquil space to escape the hustle and bustle of your busy and tiring life. A tastefully and practically designed bathroom can create a calming experience that allows you to decompress every time you step into it.
With the many material options available today, it isn't a challenge to design and build a well-thought-out bathroom that caters to all your needs. This guide will take you through the 9 best bathroom design ideas when renovating or building a new home in 2023.
9 Bathroom Design Ideas That Stand Out
Wall-Mounted Bathroom Cabinets for a Minimalistic Appeal
Minimalism is making its way into every aspect of design, and bathroom cabinets are no exception. A wall-mounted bathroom cabinet can be a great way to keep your bathroom decor looking minimal, clutter-free, and more open. This is particularly great for smaller bathrooms where larger, freestanding cabinets might make the space much tighter. These cabinets often have mirrors that add to their utility, hitting two birds with one stone and eliminating the need for a separate mirror.
Vintage Bathroom Cabinets for an Off-Beat Appearance
Vintage and mid-century styles have been making a fierce comeback in the design world, and your bathroom is the perfect place to experiment with this theme. While many might want their vintage-looking cabinets specially designed for their spaces, you can also check out old thrift stores for hidden treasures that you can pick up for cheap and restore to your taste. Pair this with a wrought-iron mirror, some classy wallpaper, and a few brushed gold statement pieces, and you have the perfect vintage bathroom ready.
A Corner Bathroom Cabinet for Those Tight Spaces
Small bathrooms often need to be designed carefully, with every inch of space being utilized. However, the idea isn't to overdo it but to smartly ensure a balance of space and practicality. If your small bathroom has a corner that you think might go unused, use a corner bathroom cabinet instead. This is a great way to put an otherwise neglected corner to use while smartly making use of the space on hand. You can add a splash of color to spice it up and get some much-needed space to store your bathroom essentials.
Wall-Mounted Cabinets With an Open Shelf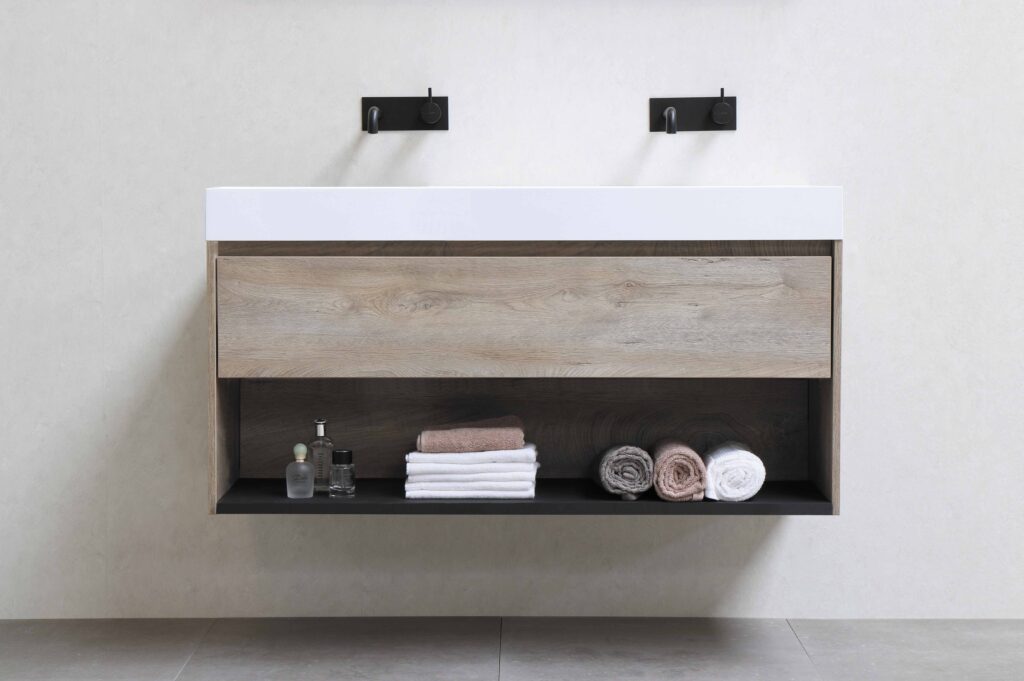 Would your bathroom be more than just a space to freshen up or shower in? Are you the kind of person who loves to add a candle or two or any other decorative item to your bathroom to go with the rest of your home's decor? If your answer is yes, a wall-mounted cabinet with an open shelf can be the answer. This system offers a fine balance of closed cabinets to store all your skincare and cosmetics while providing you with an open shelf to add decorative accessories.
A His-And-Hers Cabinet for Bathrooms With Acres of Room
If you're a couple who tends to fight for space in the bathroom every morning, a cabinet with space for a his-and-hers sink is the perfect solution. This is ideal for large bathrooms to accommodate a larger cabinet and can also go a long way in making your bathroom feel a lot more luxurious. With a solution like this, both you and your partner can have your own spaces to freshen up or wind down in harmony.
Floating Bathroom Cabinets to Create the Illusion of Space
If your bathroom is small and you're looking for a way to create the illusion of space, a floating bathroom cabinet can be the ideal solution. This is because the less furniture you have occupying floor space, the larger your room looks. The same goes for your bathroom. A floating cabinet can be a great way to achieve this while ensuring you create enough space to store all your essentials and keep your bathroom floor clean.
Modern Bathroom Cabinets With Open Shelves
If you're someone who loves open-shelved furniture, an open-shelf bathroom cabinet can be your best friend. This is a great way to create an illusion of space while allowing you to decorate all your towels and other essentials neatly. However, this is only ideal in areas that don't have a lot of dust, as keeping your towels and accessories clean at all times can be a hassle.
Contrasting Bathroom Cabinets That Stand Out
If you already have a cabinet design in mind but want it to be the center of attention in your bathroom, a great idea can be to paint it in contrast to your walls. For instance, if your bathroom walls and flooring are a shade of off-white, an olive, wine, or blue cabinet can be a great way to get your cabinet to stand out. You can similarly play around with a whole host of colors depending on your existing decor to create a combination that truly creates a lasting impression.
Bathroom Cabinets With Integrated Lights
Many bathroom cabinets come with mirrors and integrated lights or backlighting, smartly combining several elements into one piece of furniture. This can be a great idea for those who need light to fall directly on their face rather than from an upward position. This can also be a great solution for bathrooms with lower ceilings, as it prevents you from having to install lighting fixtures above your bathroom cabinets.
In Conclusion
Designing your bathroom can be a therapeutic experience, and you must do so in a manner that makes you feel relaxed every time you step in it. The right bathroom cabinet is a crucial element in ensuring this, and there are several ideas you can take inspiration from to get the right cabinet for your bathroom.
If you're looking to design a brand-new bathroom or renovate your existing space, it's always a good idea to get in touch with the right people. Excelsior Lumber is the best in the business, especially if you're looking for the right materials and supplies for your bathroom renovation in Morris County. Contact us today for all the expert opinions or a demo of the extensive range of materials we offer.