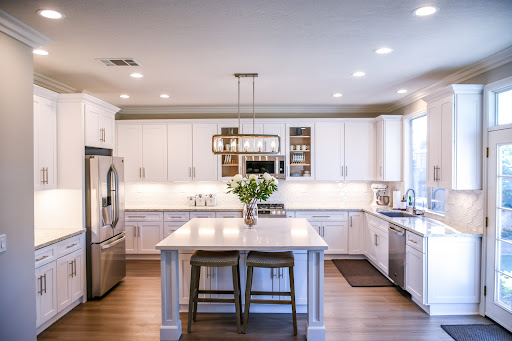 The kitchen is often referred to as the heart of the home, and as such, it's no surprise that it's a space that homeowners are constantly looking to update and refresh. With so many design options available, it can be difficult to know where to start. Fortunately, the top kitchen design trends for 2023 have been determined by the industry's leading experts. The following trends offer a wealth of inspiration for homeowners looking to create a beautiful and functional kitchen.
Customized Cabinets 
Custom cabinets have become a top kitchen design trend due to the personalization they offer. Homeowners can customize the size, design, and finish of their cabinets to suit their particular requirements and tastes. This includes choosing special features like pull-out drawers, glass doors, and specialized storage options. 
They also provide improved functionality, as they can be designed to maximize the available space in a kitchen and make the most of every inch, including built-in spice racks, pull-out pantry units, and specialized storage for pots, pans, and other kitchen items. These cabinets offer increased storage compared to standard cabinets, as they can be tailored to fit the specific needs and dimensions of a kitchen, reducing clutter and improving organization. In terms of aesthetics, customized cabinets offer a wide range of finishes and styles, from classic to contemporary, allowing homeowners to choose cabinets that match the overall design of their kitchen or make a statement with unique materials, colors, and hardware. Additionally, customized cabinets are often made from high-quality materials and built to last, making them a great investment for homeowners looking for long-lasting and functional kitchen storage solutions.
Subdued Countertops 
Because they provide a timeless and adaptable look that works with a variety of kitchen styles, neutral countertops have become a top kitchen design trend. They typically have soft veining in materials like marble or granite as well as neutral hues and subtle patterns like solid shades of white, grey, or black. Other design elements, like cabinetry or backsplashes, can take center stage in the kitchen thanks to this understated style, which contributes to its calming and cohesive atmosphere. 
Additionally, they are practical, as they can hide everyday wear and tear more effectively than brightly colored or patterned options. They are also easier to match with a variety of other design elements, making them a popular choice for those who want a timeless and sophisticated look in their kitchen. They are additionally low-maintenance because they don't need special cleaning or sealing, and they are strong because they can withstand regular use, exposure to heat, and moisture.
Mixed Metals 
Mixed metals offer a modern and sophisticated look, adding depth and dimension to the kitchen. Mixing different metal finishes, such as brass, stainless steel, and nickel, allows homeowners to create a unique and personalized look in their kitchen. This trend can be achieved through the use of mixed metal hardware, lighting fixtures, and even appliances. 
By combining different metal finishes, homeowners can add interest and contrast to their kitchen design, creating a look that is both stylish and functional. Additionally, mixed metals are versatile and can complement a variety of design styles, from traditional to contemporary. They are also durable and long lasting, making them a smart investment for those looking to update their kitchen.
Wallpaper Backsplashes 
Wallpaper backsplashes offer a unique and eye-catching way to add color and texture to the kitchen. This trend allows homeowners to bring a touch of personality and character to their kitchens, which is often overlooked in this functional space. Wallpaper backsplashes can be used to create a bold statement or add a subtle pop of color. 
They can also be used to mimic the look of expensive materials, such as marble or tile, without the high cost. The versatility of wallpaper allows for endless design possibilities, from bold patterns to subtle textures. Wallpaper is also low-maintenance and easy to clean, making it a practical choice for the kitchen. With so many options available, homeowners can choose a wallpaper backsplash that perfectly complements the overall design of their kitchen, creating a unique and personalized space.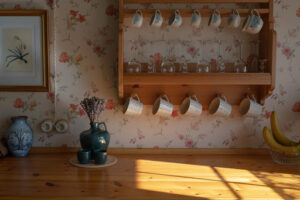 Special Bar Areas 
A special bar area can provide additional counter space, storage, and a dedicated area for food preparation and entertaining. This trend allows homeowners to create a functional and stylish space for cooking, dining, and entertaining all within the same room. With the use of complementary or contrasting countertops, cabinetry, and lighting, special bar areas can be created to match the overall design of the kitchen. Additional features that can be added to these spaces include wine refrigerators, built-in beverage centers, and even integrated bar seating. 
The addition of a special bar area can help to create a more functional and efficient kitchen, and can also serve as a gathering space for family and friends. Overall, special bar areas are a popular trend in kitchen design due to their versatility, practicality, and ability to bring style and function to the heart of the home.
Different Lighting 
Standardized lighting has become a top kitchen design trend because it offers a clean, cohesive, and functional look in the kitchen. The term "standardized lighting" refers to the use of a consistent style and type of lighting throughout the kitchen, such as using the same type of pendant lights over the kitchen island and sink area or using under-cabinet lighting to provide a uniform and functional source of light. This trend is popular because it helps to create a harmonious and balanced look in the kitchen and allows other design elements, such as countertops and cabinetry, to take center stage. 
Additionally, it can create a cozy and welcoming atmosphere for entertaining as well as a useful source of light for cooking and food preparation. Homeowners can select a standardized lighting design that flawlessly matches the style and functionality of their kitchen from the many lighting options that are readily available.
Experiment with Bold Colors 
In order to give their kitchens personality and uniqueness, homeowners are increasingly experimenting with vibrant colors. This can be done in a variety of ways, such as through the use of statement-making cabinetry, eye-catching backsplashes, or colorful accents such as bar stools or lighting fixtures. This trend allows homeowners to add a pop of color to their kitchen, creating a space that is both stylish and memorable. Bold colors can also be used to create a focal point in the kitchen, drawing the eye to a specific area and making a statement. 
Using bold colors is also a great way to bring life to a neutral kitchen, adding a touch of vibrancy and energy to the space. With so many bold color options available, homeowners can choose a hue that perfectly complements their personal style and the overall design of their kitchen.
Whether you're looking for a bold and statement-making kitchen or a warm and inviting space for entertaining, these trends have something to offer. So why wait? Get in touch with Excelsior Lumber Company today to see how we can help bring your dream kitchen to life. With our vast selection of materials and expert design services, we'll help you create a space that perfectly reflects your personal style and functional needs. Contact us today to learn more!